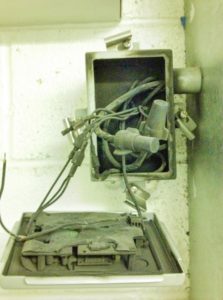 We'd be hard pressed to find an electrical topic more critical than grounding – and with good reason. A good grounding system is necessary for a clean power system. It's needed for the proper operation of variable frequency drives, programmable logic controllers, surge protectors, and filtering devices.
I want to share some of the easier ways you can improve grounding, things that I see regularly, and resources that I have found helpful.
There are three main types of grounding systems you may encounter in the field:
Solidly grounded
Ungrounded
High resistance ground
The solidly grounded system is the most common in industrial, commercial, and agricultural power systems. In this type of grounding system, grounding conductors are connected to earth ground with no intentional added impedance in the circuit.
Proper solid grounding allows protection devices to operate quickly and safely when voltage faults occur. It also allows for good control of damaging transient voltage. Faults can damage equipment and facilities and pose serious safety issues. And line-to-ground faults represent about 98% of all fault failures.
Want more details on basic grounding? This EC&M article has you covered.
Critical Components of Solidly Grounded Systems
The most effective solidly grounded systems share these building blocks:
The earth reference

The lowdown: These grounding rods establish a bond to the earth at the facility service entrance for the electrical distribution system.
What you need to know:
What's available and what works best with different soil types can help prevent problems. Get details from this great article from EC&M.

Resistance to ground should be 25 ohms or less. But it needs to be 5 ohms or less for industrial and healthcare controls.
Dry soil can muck things up. If you have an agricultural operation and are located in a lightning-prone area, water your ground rod(s).
The grounding electrode system

The lowdown: These bonded metallic parts form a continuous circuit that's at earth potential. The grid or loop establishes fault-clearing paths for the electrical distribution system and for equipment within the facility.
What you need to know: If you need multiple rods, they must be bonded together. This is per National Electrical Code (NEC 250) and The Institute of Electronic and Electrical Engineers (IEEE 142).
Low-impedance bonding

The lowdown: A permanent joining of metal parts forms a low-impedance path for fault current to ground and allow over-current devices to operate.
What you need to know:

The NEC has strict guidelines about bonding. Per NEC 205.8 (2005), grounding conductor and bonding jumpers need to be connected by exothermic welding, listed pressure connectors, listed clamps, or other listed means. Don't use connection devices or fittings that depend just upon solder. And do not use sheet metal screws to connect grounding conductors or connections devices to enclosures.
Surfaces like the inside of the disconnect housing or electrical panel should be clean. So, remove paint, varnish, and the like.
Regular testing of equipment grounds is critical – particularly in special installations. If you have sensitive electronic equipment, be vigilant about testing grounds.
Neutral ground bond

The lowdown: This should be bonded only at first means of service disconnect. It's needed to properly operate the circuit breakers to guard against current traveling on the neutral conductor from "catching a ride" on the ground grid.
What you need to know:

When you bond the neutral and the ground on a sub feed panel, the returning path on the neutral also shares the path with the grounding conductor.
Ground loops or stray voltage can be caused by multiple neutral ground bonds.
Remove the neutral ground bond strap on secondary panels.
Learn more with this excellent series of articles.
Grounding your power system properly can save you downtime and heartache in the future. There are a lot of important details, but you don't have to deal with them alone. Power quality systems are my passion and I'd love to help. Give me a call at 479-244-0480 to talk about your system.
Helpful Resources
Electrical Construction & Maintenance offers some great materials:
The National Electrical Code & IEEE books are also very helpful:
NEC Article 250
IEEE Standard 142 Grounding of Industrial and Commercial Power Systems (Green Book)
IEEE Standard 1100 Powering and Grounding Electronic Equipment (Emerald Book)