The automatic transfer switch – or ATS – is the heart of your generator backup system. It's a critical part of the system and provides continuity of service for life safety and mission-critical equipment. However, the ATS is sensitive electronic equipment. You need to take good care of it so that it can take good care of you.
ATS testing and failure
You won't know if your ATS has failed until one of two things happen:
You conduct a full system load transfer test. This is the best way to find out if there's a problem, because the other option is …
You experience a loss of utility power and your generator doesn't come to the rescue. Bad things happen.
Many generators are set to run automatically about once a week. That test operates the generator, but it doesn't necessarily test the ATS.
This is a big deal because the ATS is at considerable risk from surges and spikes. The greatest threat to equipment and safety is near field lightning strikes. These strikes can enter through control circuits, ground, the utility's side line, or load-side wiring. And control and data lines are highly susceptible to risk from transients.
How the ATS should work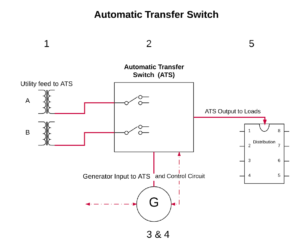 To make sure you have proper protection for your generator system, install surge protection devices (SPDs) and always double-check your grounding. You should have surge protection in these locations:
Utility feed to ATS or utility disconnect
Input (line side) for ATS
Generator input to ATS
Generator low voltage control circuit(s)
ATS output at load side of ATS
Keep in mind that IEEE recommends that cascading SPDs include the panels fed by the generator / utility. This will protect sensitive electronic equipment like printed circuit boards. IEEE also recommends:
Almost all ring wave transients are below the turn-on point of the avalanche diodes and MOVs used in Panel type surge suppressors on the market today. Most are less than 1000 volts. Without a good Surge Protection with tight filtering designed to handle these low magnitude events, these transients will adversely affect electronics performance and longevity.
An enhanced transient filter is vital. It will enable you to get sustainable performance and reliability from microprocessor-based and data-intensive applications in all your facilities. Filtering helps reduce glitches, program lock-ups, and resets. And it protects tiny integrated circuitry from damage.
Learn more
Need more detail? Check out our recent guide to Protecting Sensitive Electronics.
When you're ready to make sure you're protected, let CBG provide a complimentary risk assessment. Call Craig at 479-244-0480 and we'll do a personalized review of your coverage, opportunities, and risks.